What exactly is Out of Home
You've probably already come into contact with it multiple times today, and just may not realize it. Out of Home is the technical term for advertising that reaches people on the go, outside of their residence. The great thing about out of home is that it's not easy to avoid. It doesn't have an off button or a skip feature. Out of home, when done properly, is unavoidable.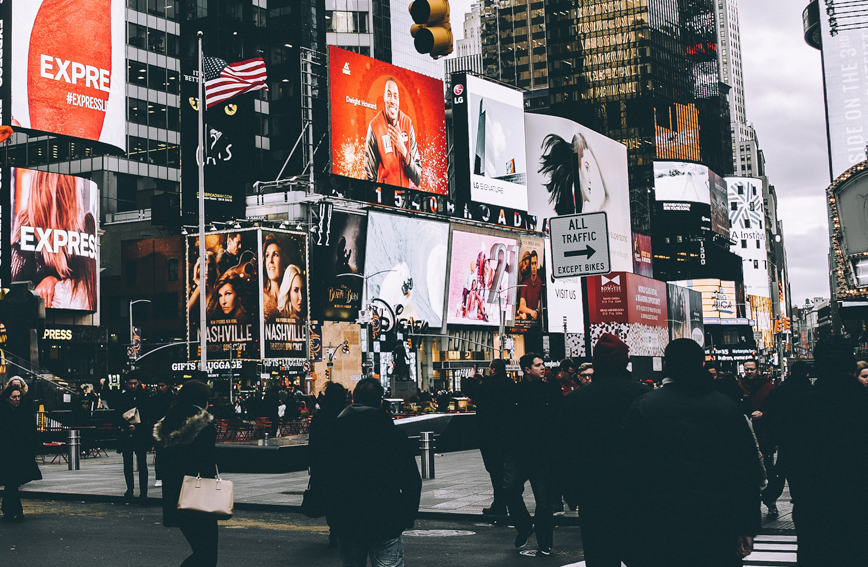 Out of Home
Facilitating all Phases of the OOH Process
Database of all OOH Vendors Across the Country Utilize a Highly Developed Proposal System Utilize Existing Relationships with OOH Vendors
Smart and Simple
Ease of Signing One Vendor Contract
One Point of Contact For All Your Out-Of-Home Advertising
The Next Big Thing
Idea Generators
25 Years of Combined OOH Experience Work on a Local vs National Level
The Goal
The best compliment we can receive from any client is that they don't view us as an agency but rather an employee of their business. That type of compliment does not come without meticulous attention to detail and a ton of hard work.
STEP ONE. THE EVALUATION
Whether this is your first ever experience in out of home or you have a current comprehensive nationwide out of home strategy, this step will give us the understanding we need to ensure we are the right fit for you.
STEP TWO: THE REASON
Each client has a different pain point as it relates to out of home. For some, the out of home process is just too time consuming. For others, it may be the uncertainty with pricing among different vendors and markets.
STEP THREE: THE GAME PLAN
Once we've identified the reason, we can then provide the plan. The sole purpose of the plan will be to eliminate those pain points and make the out of home buying process easier.
STEP FOUR: THE LAUNCH
Once the game plan is approved, that's when we go to work. We connect your business with potential opportunities while also making sure we deliver you the most impressions at the best possible price.
STEP FIVE: THE JOURNEY
We never want our clients to feel "stuck" with respect to their current strategy which is why we work on a contract by contract basis. We understand that your business is in a constant state of change and we feel your out of home strategy should evolve with it.
"If everyone is moving forward together, then success takes care of itself." – Henry Ford
Billboards
There is a reason why billboards have lasted the test of time. It's because they are simplistic and they work. Traditional billboards are one of the oldest forms of mass advertising. Found primarily on well traveled arteries, these larger than life structures are unavoidable to all demographics. Whether you choose a static billboard to hammer home your message 24 hours a day/7 days a week, or a digital billboard which gives you the flexibility to customize your message; you can at least rest easy knowing your customer can't turn this message off or change the channel.
Transit Advertising
Have a desire to infiltrate a metro area but unsure of how to make an impact or standout? Looking to beef up the frequency in which your customer comes into contact with your message? Consisting of buses, trains, taxi cabs, etc; Transit Advertising gives you the ability to blanket a metropolitan area with your message. In an area where your customer is always on the go, your message should go with them.
Airport Advertising
There is no better way to announce your presence, than to have your name be the first thing people come in to contact with as they reach their destination. Airport Advertising gives you the ability to not only reinforce your brand to your local customer, but also introduce yourself to your new customer. If they are going to wait 20 minutes for their luggage, they may as well be reading about the great things that you have to offer.
Cinema Advertising
The primary goal of any good advertising campaign is to speak to a captive audience. There is no better captive audience than a movie theater. When people pack the movie theaters to see the next blockbuster hit, they should also be viewing your brand right alongside it. Imagine your message on a 40 foot screen with no fast forward or skip button.
Mall Advertising
Running low on bread or milk? That annoying little yellow gas light pop up? You think to yourself, "I can make it – just a little further." Little ones yelling (sometimes BIG ones), "I got to go to the bathroom!" All at the most inconvenient time, which really explains the convenience of these stores scattered across town.
Specialty Advertising
Professional and Amateur Sports Advertising, Mobile Trucks, Convenience Store/Gas Pumps, Aerial Banners, Wallscapes, and much more.
Our goal is to be a partner with each and every one of our clients.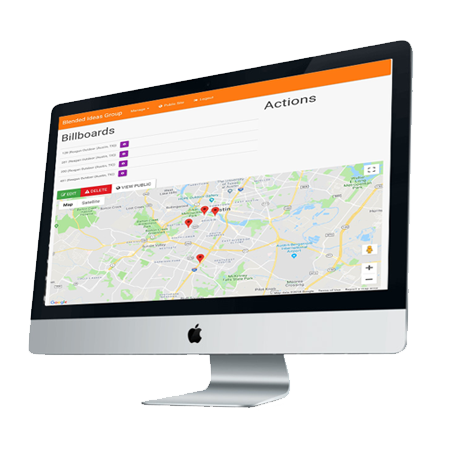 Game-changing proposal software.
If you've read all of the above and you're still not sure why we'd be a good fit for your business, let us introduce you to our proprietary True-View system. This revolutionary Out of Home platform is a gamechanger in the evaluation and management of out of home campaigns. We would love the opportunity to demo this platform for you and show you how it can make your out of home buying easier, quicker, and more cost efficient.
What Clients Say?
"Since its inception, Blended Ideas Group has helped our organization, the Scott Clark Auto Group deliver our ideas to the public with extremely creative content in outdoor advertising. Susan and Corey have never ceased to come to us with creative, successful and fun campaigns that fit our advertising style; furthermore, they have always fought on our behalf to get us the best possible pricing for those campaigns. I could not ask for a more reliable, trusted and creative vendor/partner."
"Working with National retailers daily, the one platform I don't cover is billboard placement and advertising. I have referred multiple clients to the Blended Ideas Group team and they have come through every time for my partners! Not only are they saving them time and money, but the ROI has exceeded all expectations!"
"We purchase in many markets and Blended Ideas Group provided expertise and valuable tools to streamline market options and inventory tracking. With their guidance and research, we enhanced our market strategy process. We highly recommend the Blended Ideas Team."